Mary John Frank caught our eye in New York with her spec spot for Converse where she brings her choreography talents to film. We catch up with the new director to see what else she's been up to
MJ, please tell us your backstory. How did you learn filmmaking? 
I learned filmmaking by observing and doing. I did not go to film school, but my first jobs out of college were at film companies like Miramax, Paramount Vantage, and Lionsgate. I read scripts, watched films in several stages of development, and had the opportunity to visit sets a few times.
At one point, I interned for director, Craig Zisk, on the set of the television series "Weeds". Watching him in action made me think, I have to do this! In 2011, I received Panavision's New Filmmaker Grant, raised funds on Kickstarter and made my first short film, Einstein's Dance.
From there, I learned more about filmmaking by asking a lot of questions and surrounding myself with talented cinematographers and people who knew way more about filmmaking than I did; specifically, DPs like Damian Horan, Jake Saner, and teacher and filmmaker, Paul Galando.
(Extended director's cut of Converse spec spot)
And what led you to make this spec spot for Converse, which we really rate?
One of my goals is to direct and create memorable ads for brands that lend themselves to dance. The Converse spec was my first attempt at this. I made the commercial as my final project at Tisch Dance (at NYU) where I recently received my Master's degree.  I chose Converse as it is a timeless and international brand that I felt went well with my style of choreography. I wanted to take a concept that was familiar to me, like "Dance at The Gym" from West Side Story, and give it a playful twist. After seeing a photo of an art installation by artist, Paolo Salvagione, I felt that swings would ad a whimsical element. I definitely recommend having swings on your next set!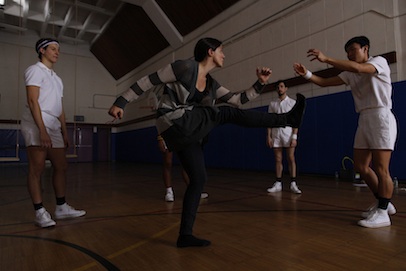 In terms of logistics, we shot the spec over a weekend and from there cut a 60 and 30 second spec. I also made a longer director's cut that includes the dance from beginning to end so that the dancers and I would have plenty of polished footage to use for our reels and portfolios. Being under the NYU umbrella, I was able to assemble a cast and crew from various Tisch Departments like Film, Production Design, Costume, and Dance. We raised the funds on Kickstarter, took advantage of student discounts, and found the location at the Bankstreet School in Harlem.  It was a challenge creating something like this on a tight budget; however, all signs kept pointing to YES, this is happening and we all went with it.
Your work always has a dance element to it – were you a dancer yourself? How did you come to be interested in choreography?
Movement has always been a big part of my life. I was a dancer and a gymnast growing up and choreography was something that just kind of happened. As a kid, I would go to my room after school and make up dances to Sheryl Crow and Broadway soundtracks instead of doing my homework. My younger sister was kind enough to do partnering work with me and I would make her be the boy. Still, to this day, she only knows the boy parts to certain dances (sorry, Lu!).
After college, I focused mostly on work in film production, but danced when I could. Eventually, a friend in Los Angeles asked me to audition for her dance company. This lead to more opportunities to choreograph and teach and eventually dance and choreography took over and became my fulltime job. I began combining a film element to dance when I started recording my own works on stage. The staged dances often felt flat and didn't translate in playback so I began messing around with camera angles, lights, and thinking more about how to capture movement in interesting ways.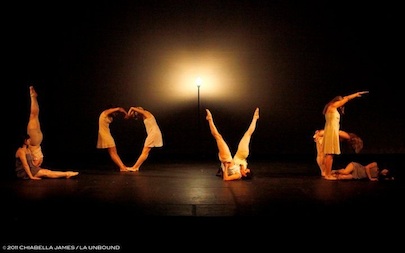 What are you currently working on? And where are you based?
I am currently working on a pitch for a series of commercials that I'm really excited about. I am also editing a dance film and working on the score for a project I recently shot in Salzburg, Austria. Getting into the dance studio and teaching and creating movement is always a priority as well, as I need to keep flexing those creative muscles and working with bodies in space. I am also applying for grants and funding for new films, stage, & multi-media works, and am actively looking for representation. I am currently in New York, travel to LA frequently, and am open to going anywhere for the work!
What's Plan A?
The goal is to continue directing, choreographing, and collaborating with brands and talent to create compelling dance content for the screen and stage. I would love to direct commercials, music videos, and eventually longer length films (musicals, dance or action-based) and I am interested in working with other choreographers and directors as well. I loved the choreography segment during this year's Emmy Awards and getting to create a vignette for an awards show or live performance is also part of plan A. I want to make quality work that keeps audiences excited and curious about dance and wanting to see more. 
Are there any directors out there that inspire you or have what you want?
I have a great deal of admiration for choreographers who also direct like Michael Gracey and Fatima Robinson. Their careers show me that what I want to do is possible. A girl can dream! I am also inspired by Wayne McGregor's work and career and how he has combined dance with other art forms like film, music videos, and more. The work he did with Thom Yorke and Radiohead on "Lotus Flower" makes me very happy every time I watch it.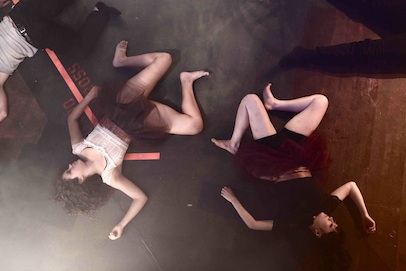 Are there any other projects of yours that we should know about?
Yes! If you are still with me, check out the trailer to Arlington. This was a beautifully designed stage piece by Shannon Gillen that we adapted to film. We took the dance and set it in rustic, outdoor locations in upstate New York, then captured the movement using steadicam. We played with light and shadow and the dancers were fantastic sports as they were doing multiple takes on a wooden barn floor and in a field at night…the shoot was an adventure! We have recently submitted the film to both dance and non-dance festivals and hope to get some good news soon.
Link: www.maryjohnfrank.com