Winner of YDA's additional contest of 2021, Born To Create Drama, director Oliver Bernotat discusses delving into the fertile forest that is a child's imagination.
Alongside the main YDA competition, the Born To Create Drama contest was free-to-enter and open-to-everyone, with a simple brief: to make a film of up to three minutes inspired by the YDA tagline 'Born To Create Drama'.
The winner of the public poll, with a total of over 1300 votes was The Catch.
How did you approach the Born to Create Drama brief and arrive at the concept for the film?
I started with ideas where it was all about the drama in the screenplay. But at some point I realised the drama doesn't have to be in film itself it can be in the head of the viewer and their imagination.
It is a very subtle story, can you talk us through it?
It's a wild world out there, especially when you are a kid. Everything you do is as big as your imagination gets. So if we look at the story it actually takes place in the head of the child; it's his journey. He is on a mission – walking through a massive forest, with obstacles to overcome – just to find the perfect lake to make the perfect catch.
For us it would be just a kid in the garden playing with a self-made fishing rod. So I wanted to get the viewer close to the imagination of a child through visualising his world, that actually doesn't really exist. The drama appears when those worlds collide and that's the little joke with the koi fish.
Can you tell us a little about your background and what motivated you to become a director?
Well this might be the part where I should say something like: "As a kid I've always had a camera in my hand and dreamed of wild stories to tell." But I've actually found my way into film through editing. I really liked the power of montage and how you could tell a story in so many ways.
After a while I somehow realised, that I wanted to have more influence on the content I'm editing. So I started to write scripts and found my passion. At one point I decided that there are way better editors than me and that directing and working together with people on a vision is what I love to do.
Did you edit the film yourself?
Yes, I still love editing my films but usually I feel it's good to have someone that challenges you and your vision. Filmmaking is not just about the director, it's about bringing all the visions together. Great ideas can only enhance the film! But no-one in the team complained about the editing so I guess it was okay!
It's a wild world out there, especially when you are a kid. Everything you do is as big as your imagination gets
Where did you shoot it and how long did it take to create the film?
We shot the film near Munich in a small village garden. Luckily it was the perfect location with everything we needed. It took us half a shooting day cos we were only three people with a small set up and the kid. I guess the forest and the fields next door really helped us. Post production took us another week.
What were the biggest challenges you faced in creating it?
I would say finding the perfect kid for the story and making everything possible in just three hours – that's how long you can shoot with a child. Fabio hadn't been in front of a camera before so working with him was also really exciting. I think he did a great job and made this film very special.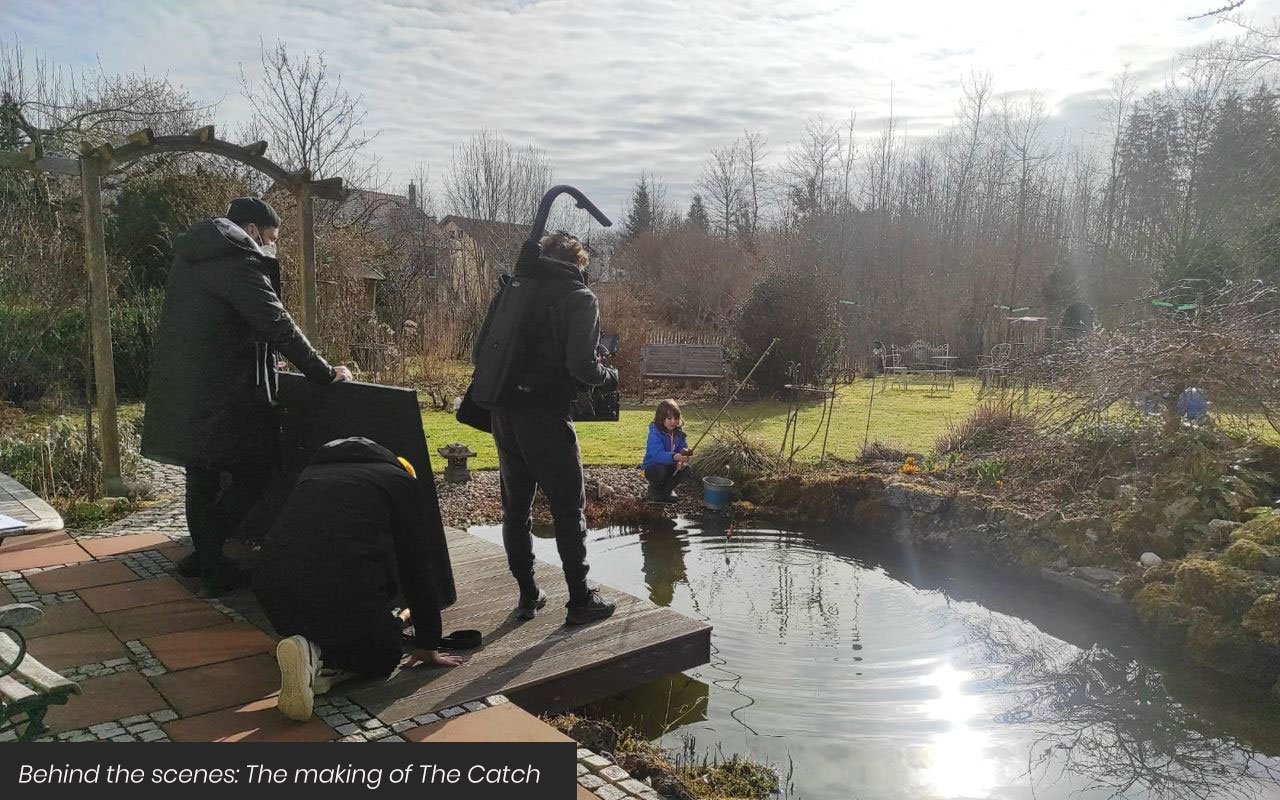 Are you interested in working in commercials directing?
Absolutely. I love storytelling and strong visuals that create emotions and deliver a message that lasts. The art of telling a story in such a short time gets you to the core of filmmaking.
What does it mean to you to win a Young Director Award?
I think it's amazing to get noticed by such talented and established people in the industry who share the same passion as you. Making films and telling stories. For me, especially winning this with my friends and colleagues Christoph Werner (DP) and Carlos Jorczik (Producer) was amazing. We did a couple of projects together and now have come this far.
What projects do you have in the pipeline?
My next film is going to be a commercial for Mercedes with a slightly different approach when it comes to car advertising. A real passion project that I wrote a couple of month ago and we were finally able to realise. Can't wait to get this one out there.
Interview by Carol Cooper shots