After picking up a Gold Screen in the Film School (10 minutes and over) category for his comedy short film Fishmonger, directorNeil Ferron tells Izzy Ashton the tale of the lonely and pathetic, Christie O'Mallaghan.
How did you get into directing? What was the first film you remember making?
Honestly, directing wasn't on my radar until my late, late 20s. As a kid, I disappeared into books. I had this traumatic accident, around age seven, that blinded my left eye. For months, I had to wear bandages and eyepatches, and I really started to distrust the world around me. But my mum would scoop me into her bed and read me Doctor Dolittle, Redwall, Ursula K. Le Guin's Earthsea Trilogy. A few years later, she was slipping me Vonnegut and Philip K. Dick. Thanks to her, I fell in love with sci-fi & fantasy. Those worlds, with freaky creatures, psychedelic inventions and unlikely heroes, were the worlds I wanted to live in and create. By the time I was a teenager, I was writing stories and dreaming of publishing novels.
Film didn't actually happen until I was 28. My buddies Kim and Ryan asked me to star in their band's first music video but they didn't really have a story and I am definitely not an actor. So, I agreed to help them, as a writer. Somehow, I slipped into writing, casting, and directing the whole thing. And I was hooked. It was everything I loved about writing, character, story, world – but then I got up from the desk and we actually did all of it. Which felt crazy. And thrilling. The music video involved a slip-n-slide and a lot of raw meat.
Where did the idea for Fishmonger come from?
In a word, Catholicism. Namely, my 17 years of Catholic schooling and the subsequent swirl of shame, epic mythology, repressed sexuality, and a deep desire to be good/fear of being condemned. More specifically, the summer after my first year at AFI, I desperately needed an idea for my thesis. I wasn't satisfied with anything I'd written. I was stressed. I was flipping through this book of vintage National Geographic photographs, and I found this image of a Nova Scotian fisherman rowing through a storm; anxious face, ominous waves, slick raincoat. I just knew this guy was stealing away from his village to go have sex with a sea creature but he wasn't happy about it. And I didn't know why.
Fishmonger emerged as an answer to the question: why was this man rowing out to have sex with a sea creature? And for some reason, answering that question really helped me access some of my deeper feelings of self-loathing and inadequacy. (The origin of the marriage curse is pretty straightforward. I'm from a big Irish-American family, and, while we're all fairly liberal, as an unmarried person in my 30s, the marriage pressure is real.)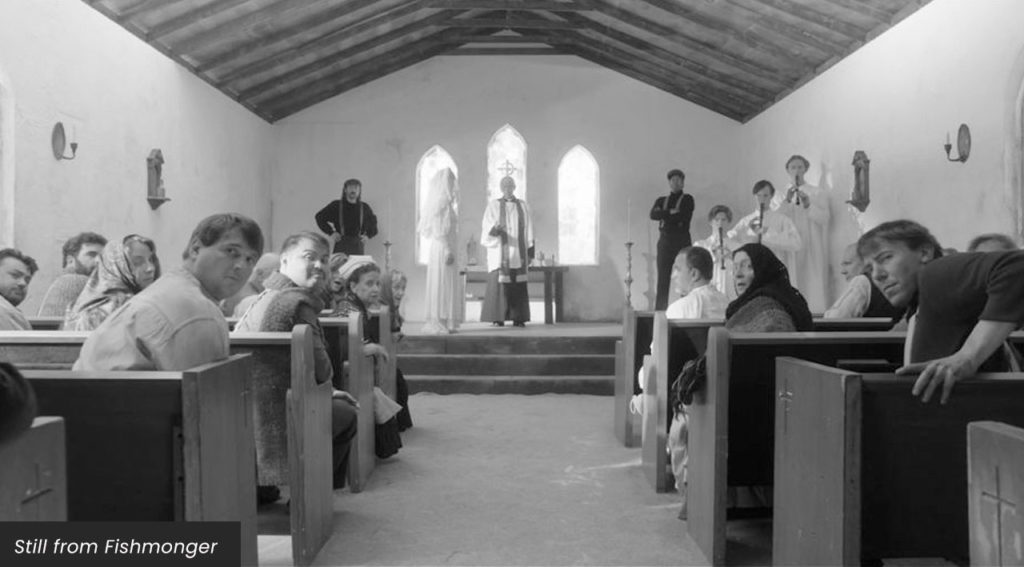 Why did you choose to use dark comedy?
Humour has always been my family's primary means of communication. For better or worse, we mostly interact through teasing, mockery, and various modes of trolling each other. It's wonderful until someone gets pissed, which is not infrequent. But I do think comedy is a real survival technique. Or a philosophy. This world is such a mess of pain unless you can find a way to laugh at it. We struggle, we hurt people, we get hurt, we love, we squirt things out of our bodies, and then one day, bloop, we die. It's either the darkest thing you've ever heard, or it's the silliest. I guess I think it's both.
What do you hope viewers take away from watching this film? Underneath the horror and erotica, is there a more personal tale you're telling?
To me, this film is super personal. I spent the majority of my life deeply wanting to be somebody else. I hated my body, I hated my belly, my hair, my chipmunk cheeks, my inability to talk to girls or play sports. As an altar boy, I would literally kneel in front of a crucifix and beg God, 'Please make me like Chip Reno.' (Chip was the coolest cool boy in my sixth grade class.) And so everything that Christie feels in this story, self-loathing, inadequacy, fear of intimacy, is something that I struggle with.
Specifically, I've struggled with anxiety and suicidal ideations all of my adult life. In 2017, my Uncle Tom took his life in a violent manner. Tom was a 6'5" ER nurse with a ZZ Top beard and a laugh that sounded like a choking hyena. An unforgettable weirdo. Tom's death ripped a hole in my family, and it ripped open something inside of me. I have a hard time admitting this, but Tom taking his life felt like it gave me the option to do the same. So, Fishmonger is my attempt to mourn Tom, to hope that, in his final moments, he imagined something wild, ridiculous, and beautiful. And it's also my attempt to start a conversation with myself and others about suicide, to speak the unspeakable act in hopes of keeping it at bay.
Could you tell me about the casting process? Where did you start?
Casting is always the most magical and terrifying process. I love actors so much. And I love working with them. But casting something like Fishmonger is incredibly difficult. A lot of actors will come into the auditions wanting to go hog wild. They're like, 'I love weird shit! This script is so weird!! Let's get weird!!!' And while the excitement is a compliment, that approach usually doesn't work too well.
But then there are actors like Dom Burgess, who played Christie, and Donnla Hughes, who played Sinead the Fish Monster. They come into the audition and they say something like, "Neil, this story is absolutely heartbreaking." And that's when I know we're on the right path. And they play the vulnerabilities. And the whole thing just sings. That's the balancing act right there: finding an actor who can exist in a world that is objectively totally bonkers, but, subjectively, for their character, it's all about yearning and tenderness. And I have to say, I couldn't be more grateful for our cast. It was such an honour to work with every one of them; Dom, Donnla, Penny, Mari, Ron, Mark, Will, everyone. They took a huge chance on this project, they brought all their artistry and humanity to the process, and they just elevated the whole thing. Our cast was such a gift.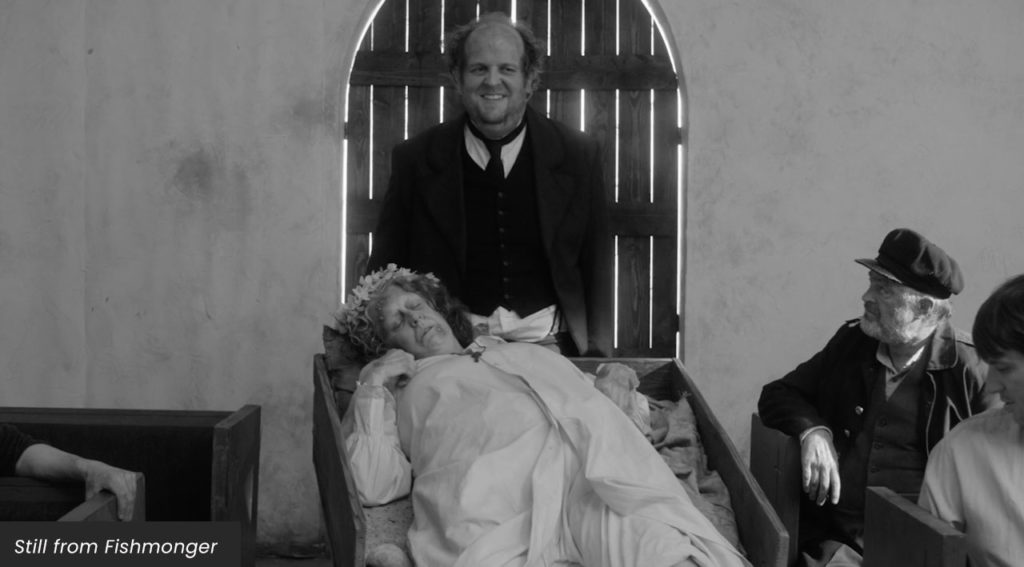 How long did it take you to make the film, and what was the most challenging aspect of its creation?
Wrangling this film within the AFI limitations was, by far and away, the most difficult challenge. AFI gives each thesis team a strict set of rules; strict budget cap, strict limitations on shooting (six days of principal, one day of reshoots). So, for our team to get everything we needed within those limitations, stunts, creature makeup, miniatures, water sequences and a musical number, we needed to plan out every single minute of every shoot day. Whole pig, snout to tail, not a moment could be wasted. Fortunately, my core AFI teammates Jack McDonald (cinematographer) and Augustine So (editor) are absolute ride-or-die collaborators. Both of them went so far above and beyond their roles, putting in countless hours storyboarding, location scouting, shooting test footage of every scene, cutting together that test footage, dressing up and acting out scenes. The two of them were there for every step of the film, and I couldn't have done it without them. There is no way Fishmonger would exist without Jack and Augustine.
Were there any standout or memorable moments to you from the film's creation process?
You know, as much as our film is wild and silly, our sets were pretty serious. We had a lot of shots to get through. We had a lot of moving parts. So, the atmosphere was always very focused. Until Day Four. At the end of the fourth day as everyone was starting to feel exhausted and maybe a bit testy, we were supposed to shoot a scene where Christie slips a wedding ring onto Sinead the Fish Monster's vagina tentacle. But, unbeknownst to everyone on set, myself included, our creature designers Robert Beaucage and Eric Fox of Symbolic Arts had added a surprise element to the vagina tentacle prosthetic. As Sinead delivered her dying words (spoiler, sorry), a tiny penis-like extension emerged from her vagina tentacle and lovingly stroked Christie's cheek. And so Christie was now supposed to gently slip a wedding ring onto this surprise penis, that had just emerged from a vagina tentacle, that was connected to an ancient fish creature, who lay dying on the floor of a rural church.
The ring didn't even get close. Everyone lost it, cast, crew, producers, PAs, me, just uncontrollable snorting, belly laughs, and giggling. It was such a needed relief. After so much control and focus during months of pre-production, after the uphill battles against COVID and low budget limitations, it felt so good to be surprised and feel a moment of collective, juvenile joy. Bless you, Robert and Eric, for being such psychopath geniuses.
What do you feel you've learned from making this film? Is this a subject matter or a style you'd like to explore again in the future?
For me, this production really highlighted the necessity of community and persistence. Every film is such a challenge, but this one was a real doozy. We were swinging for the fences, with a student budget, in the middle of COVID.
And the only thing that got us through it was community. Producers like Jordan Willcox and Valerie Steinberg. A village of generous background actors. Production designer Xiyu Lin and costume designer Nan Zhou working magic with scraps. Score composer John Graney recording dozens of instruments in his garage. So many teammates willing to come together, over and over again, to solve seemingly endless problems. All in the name of a story. It's really humbling. Nothing like this could happen without a whole community of dedicated and relentless artists.
Don't miss new shots content – sign up to our mailing list.
Stay up-to-date with the latest news, insight and inspiration for the global creative community.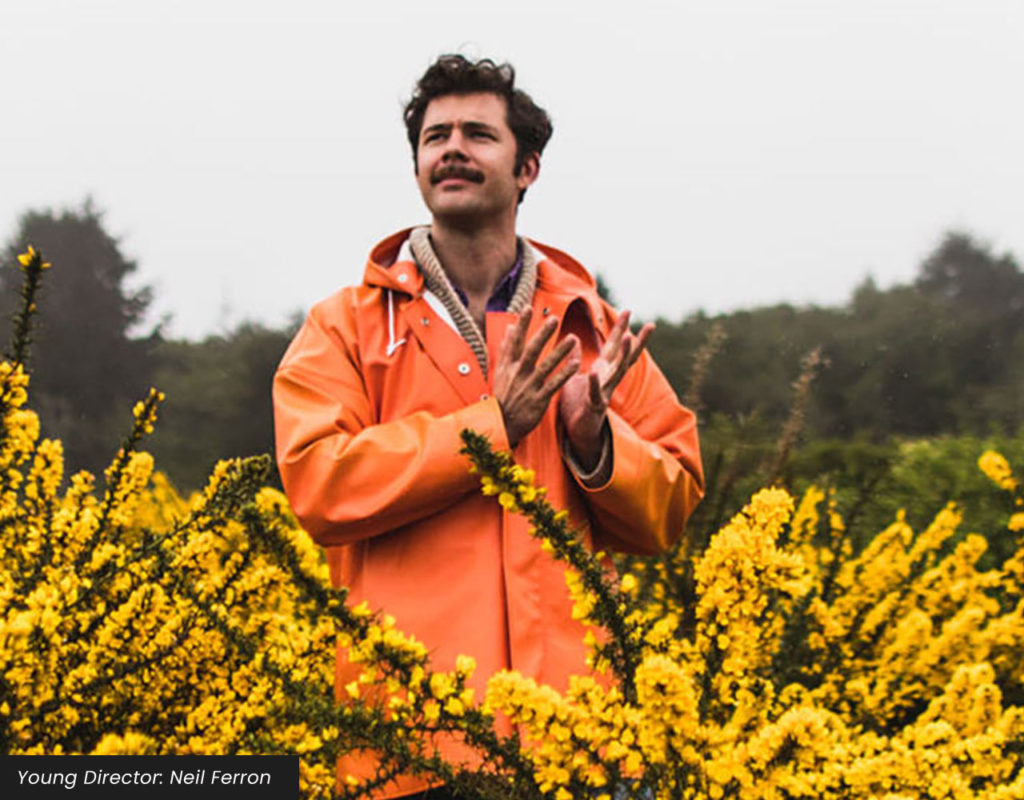 Congratulations for your win. What does it mean to you to pick up this award?
It's really special. So many people worked so hard on this film. And it was a real struggle. Against the limited budget, against COVID, against flash flooding, against self-doubt. To receive this acknowledgment from an organisation like YDA and from this year's jury, it really means a lot.
And I hope it means we all get to work together again, sooner rather than later! Because we could not have had a more incredible team of artists, and I can't wait to make more weird, vulnerable art with all of them.
What're you working on at the moment? And what's coming next?
The Fishmonger feature! Thanks to lockdown, I was able to write a feature screenplay of Fishmonger, under the mentorship of screenwriter Eric Roth, and that script went on to win Grand Prize in Slamdance's Screenplay Contest. So once we start our festival run for the short film this Fall, the goal is to channel our momentum into firing up the development process for the feature.
I'm also writing some new scripts, one of which is a post-apocalyptic biohacking comedy. Basically it's about a cult of underground scientists trying to engineer a new species to replace humankind. I really want to work with some Dark Crystal-inspired puppet creatures.
Interview by Izzy Ashton shots