Montreal-based director CARAZ won two Gold Screens for Video Art and Short Film (Up To 6 Mins) in this year's YDA. Here she shares how, through her observation of tiny details in the development of the dance, the concept for the piece gradually unfurled and took wing.
Can you explain how the film Do Butterflies Remember Being Caterpillars came about?
This film is the fruit of a collaboration between three strangers over Zoom, over several months. Luca Patuelli, the dancer, and Alessandro Giaquinto the choreographer were introduced to me by Jacob Jonas [EP and creative director] through the Film.Dance initiative.
The film started with a blank sheet of paper. No musical inspiration, no story or narrative. Luca gave Alessandro carte blanche to create the choreography and they explored movements and expressions for a few weeks before I jumped into the project.
Instantly, I fell in love with the way they created together. Alessandro's expressive personality and precision pulled me in and Luca's joyful willingness to try anything seriously kept me inspired.
One night I made a five-year wish list for my career: getting YDA recognition was on the top of the list.
I had zero ideas for the storyline. For the first Zoom meetings, I would just sit there and watch them rehearse. The source of my inspiration mainly came from little details, like facial expressions or some of the movements they named Butterfly, Elephant man, Bouncy-bouncy, and what they represented for me.
As the choreography took form, I only knew the film had to be about the duality of adulthood and childhood – an opposition between burden and freedom that I wanted to link to the life cycle of a butterfly.
Then, one night before falling asleep the entire film simply came to me.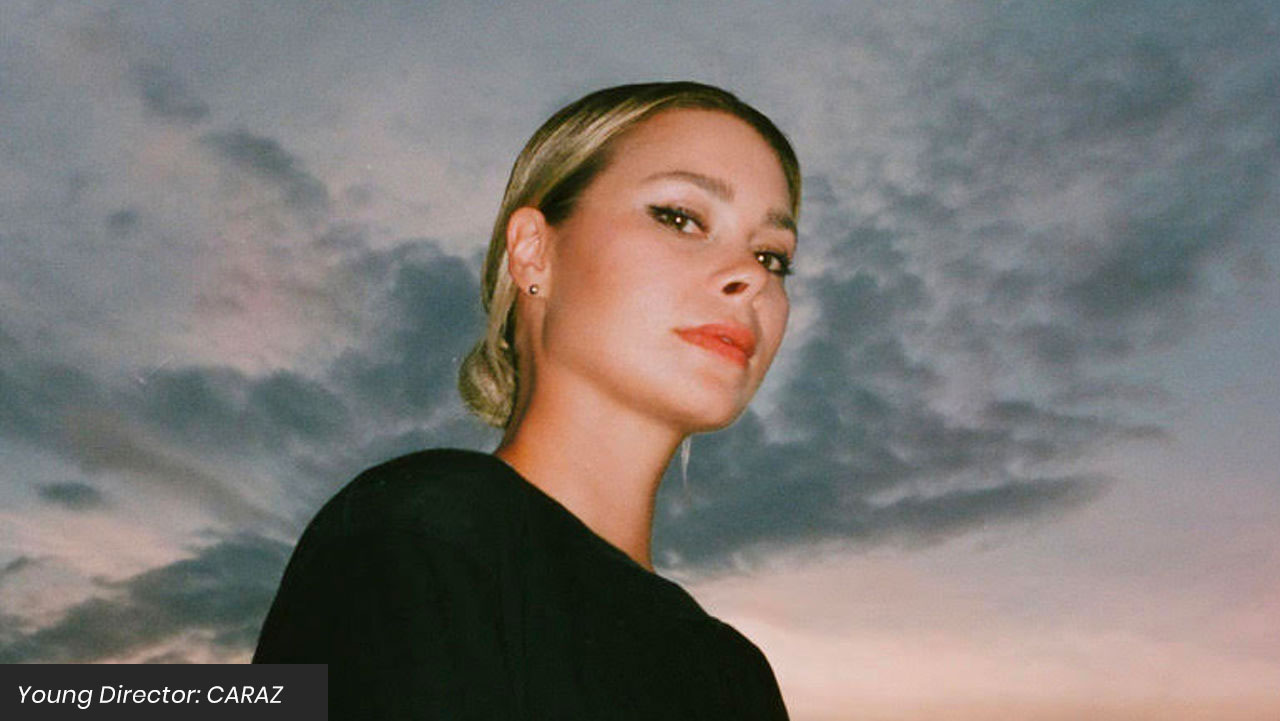 Luca Patuelli is an inspiring subject, how did he contribute to the concept of the film?
Luca's desire to break through his comfort zone has been the biggest fuel to this project. He's known for breaking with his signature crutches while focusing on strength movement, so the initial idea to not use his crutches in the film was for him to explore movements with his arms, and hands in creative ways.
After he saw the film, Luca said: "I like that the crutches aren't in the forefront and if you don't know who I am, you might not know that I use crutches to walk. I like the mystery of it."
Additionally, he felt like he could relate to the storyline I built for him. The idea of his inner child felt natural, especially after he had been through a rollercoaster of emotions during the pandemic. He was inspired to exaggerate all of those moments in the film and I was eager to direct an actor that could carry emotions and not just movement.
What is the meaning of the 'secret' that he hides in the suitcase that is later shown to be a butterfly collection?
I love that you asked this question. The first time that we see the suitcase the character is trying to maintain a mundane life despite an obvious misfit with this lifestyle. He's miming butterflies and packs them inside the suitcase – at this point they are invisible to his eyes.
I had zero ideas for the storyline. In the first meetings, I would just watch them rehearse. The source of my inspiration mainly came from little details, like facial expressions or some of the movements they named 'Butterfly', 'Elephant man' and 'Bouncy-bouncy'.
As the story unfolds the character chooses to break free from his routine and answer the calling of his inner child (a lurking child presence hidden in some scenes of the film) by unleashing his creativity through dance.
When we come back on the suitcase at the end, the butterflies, now visible, symbolise his shift of perspective from adulthood to childhood – or from caterpillar to butterfly.
Can you talk us through the choreography by Alessandro Giaquinto? It seems improvised at times, it is so spontaneous and natural.
There's no improvisation in this film. Although what is special about it, is that the choreography inspired the narrative and the storyline reshaped the choreography in a second round of creation. I wanted the two languages to talk to each other throughout. Then we shot it like a film with a deeper focus on acting.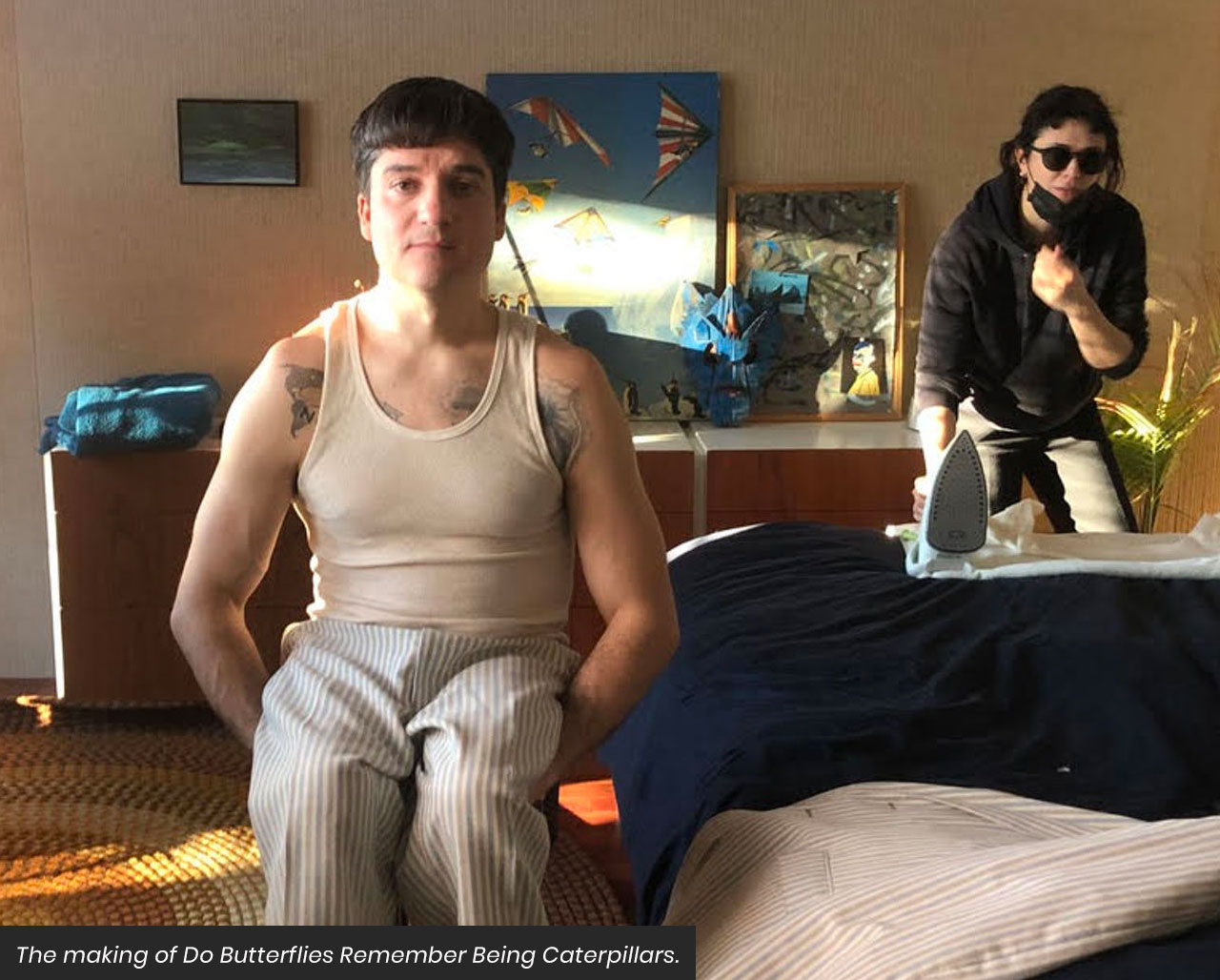 Was the score created for the film?
Once we had a first cut, we gave carte blanche to my friend Hologramme. The music brief was that it should be graceful, timeless and mysterious. He later released the track, now called Nymphs, as a part of his CIEL album.
The ending is a great show of strength and ability, is that a portrayal of him coming out of his 'chrysalis' so to speak?
It is exactly that. At the end Luca Patuelli becomes the butterfly.
What is the significance of the masked child in the room?
He symbolises his inner child. My absolute favourite detail of this film is the character's inner child creeping – he is hardly noticeable on the first viewing.
What were the greatest challenges/joys in making the film?
Jacob Jonas [EP and creative director] lived in California, Luca and I in Canada and Alessandro in Germany. So the time zone difference between us made it harder to collaborate and the Zoom aspect of the creation required some patience and precision.
What brings me joy is the hope that the film touches some people; perhaps gives hope or sparks dreams amongst the disabled community, and shows that some codes from dance films can be played with.
But deep down, I'm just happy we did it this way. I feel like I created this film for us (and the talented artists that joined us) as a way to reflect our time together. Any other outcome is a nice extra.
What does it mean to you to win a YDA award?
Talking about nice extras, the YDA award has been a longtime dream; When I was at university, a teacher would repeat to me that there's no way I could become a director. Around that time I went to Salvador to shoot my first video gig.
One night I sat outside with a notebook and made a five year wish list for my career: getting YDA recognition was on the top of the list because the curation was and still is spectacular – it constantly sheds a light on new talents who inspire me to perfect my own craft.
What are you working on now?
On a different – but similarly structured – short film. I want to dive deeper into my exploration of dance as a form of language that can move a narrative. I'm planning to shoot this fall and I'm still looking for my lead acting role – a 40-something outcast scientist. So please don't hesitate to introduce me to your favourite dancers\actors on IG at @caraz.director!
Interview by Carol Cooper shots