Meeting-up with the talented director David Bertram.
Last year you won the YDA Gold Screen in the Music Video category with DATA – Don't Sing. Can you tell us more about the genesis of this music video – how you assembled this crazy world ?
DAVID BERTRAM: I originally came from the ad world, but from the agency side and I still hadn't directed anything major at that point. With my production company, Standard, we wanted to develop a music video. We received this track from DATA. I found it quite cool and interesting. It's a nice dance-floor piece that makes you want to get up and move and at the same time, when you stop and listen to the lyrics – you realize there is something more to it – a dark and down side, highlighted by minor chords that contrast with the disco beat. This ambivalence is what immediately grabbed me. A very positive world on the surface, but once you start scratching, the little things suddenly change. That's really what I like, scratch and reveal what lies behind the mask. That transpires in my work – both photo and video.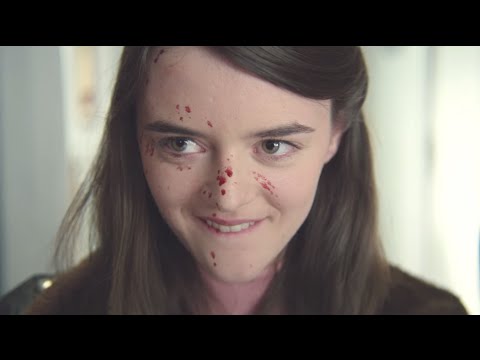 With this pop music I was looking for something light, rather acidic, and I thought of this Coen Brothers' movie that I love, 'A Serious Man'. The protagonist is questioning his own identity as his perfect life is falling appart.
The idea of filming secret fantasies was pretty exciting, but I really wanted to do a narrative music video, so I've started thinking about a story line. The concept of a whole neighborhood fantasizing on each others felt very strong. The producers really liked the idea and were 100% behind me. DATA and the label had total trust in me too, which it is not always the case in this kind of project.
Did you ever expect this incredible success ?
DB: Not at all! We were hoping for a few hundred thousand views on YouTube, but never imagined reaching nearly 6 millions. I thought the wacky and wonderful people might go for it – but certainly not the general public.
Since that first film, what are the latest projects you have been working on?
DB: In the last year I have directed a commercial and got offered some work on music videos. But I didn't follow through. I couldn't relate to the worlds the musicians were pushing. I just couldn't see what I could offer. I wanted to move onto something more ironic and more provocative.
Today, I'm on some ad projects I expect to win and also some fiction projects that are in development. I don't know where it'll take me, but I hope you will see it soon.
What do you think of our new category Changing the World Frame by Frame?
DB: I find it very interesting and pretty clever. I have never made a documentary, I don't come from this world but I've always been fascinated by those portraits of people that have done or lived things – either positive or negative – so exceptional that it oversteps reality. But I honestly don't think I could bring something of real value. By nature I am a dreamer and I like to escape reality as often as possible. That's why I like fiction, it's where I can recreate this imaginary world. Whereas in a documentary, the main point is being grounded in reality.
You mentioned your career path very briefly in the beginning. So you come from an advertising agency?
DB: Yes, I have spent the last 13 years as a creative in a french advertising agency. Directly after middle school I headed for one of the only art schools specialized in applied arts in France. I had very good results and was accepted to selective Art School afterwards. After one year I did my internship in an ad agency and they hired me immediately. I was barely 19 years old at the time and started working on huge advertising projects like Pepsi. I was able to travel the world. My first ad was in Australia, it was crazy!
What led you to move from an ad agency to a production company?
DB: From a very young age I was always interested in movies and directing. I had a friend who was an actor and at 18 he started to earn some money and bought a small DV camera. I borrowed it and I made a lot of little short films with it. The DV format ages badly and it looks very cheap now, but the ideas and the essential storytelling style were there. It was my own school.
I wanted to avoid the mistake of trying to make "real movies" but with bad actors, like getting my cousin or my neighbour on board. I simply wanted to find the right people I wanted to film and give them a credible place in my work.
I have always been totally obsessed by Stanley Kubrick and these ultra precise filmmakers. It's so hard to get what you want when making a film. This is what really impresses me!
Could you share a tip for a future young director?
DB: Go where the challenge is. If people do not necessarily understand what you want to do but you're convinced this is it, well – that's a good sign and keep at it.