Bradford Young is a DoP with an amazing pedigree of work behind him and, more recently, a director who this year picked up both two YDA Golds and a Cannes Lion Grand Prix for his stunning Paralympic spot. He talks to David Knight about artistic filmmaking, liberation and leaps of faith.
In early 2021 Bradford Young was invited to pitch on the latest addition to a much-acclaimed British TV campaign, but he had no knowledge of the previous commercials that had made it so esteemed.
He needed to do some research, and that proved transformational.  "Number one, I was impressed by the length of the work," he says. "It's a rare opportunity to actually get to make something that's longer than 60 seconds. But I also loved the intention behind the work, the spirit of the work. The fact that it was so kind, and that it was advocating for something that I feel is important. What I read in the new script was an extension of that, and it was an opportunity for an artist to really infuse their voice into this work."
Young was inspired, but there was another problem; he had only ever directed one commercial, which had not even been released. That made him an unlikely candidate to direct Super. Human, the film heralding Channel 4's TV coverage of the Tokyo Paralympics – the third iteration of a campaign that began with Meet The Superhumans in 2012, and continued with We're The Superhumans in 2016.
However, the campaign that has lauded the achievements of athletes in the GB Paralympics team – and celebrated their physical differences – in culturally important work for the previous two Games, was heading in a new direction. This time the brief – devised by Scott Taylor and Andy Shrubsole at 4Creative – placed the focus as much on the athletes' humanity – the struggle in their daily lives, even before they can commit to their sport – as upon their athletic prowess. That provided Young with his jumping-off point.
I loved the intention behind the work, the spirit of the work. The fact that it was so kind, and that it was advocating for something that I feel is important.
"For me, it wasn't necessarily about the disability," says Young, about his pitch for the job. "It was more about what's it like to be a professional, doing excellent work, but having to balance other things in life." As a family man himself, the father of two boys, he drew upon first-hand experience for his treatment. "Striking that balance means that, oftentimes, there's more athleticism involved in being a parent than being an athlete. That, for me, was the subtext that I was trying to communicate."
Young adds that he also wanted to bring a graphic sensibility to the work, that was "surreal and dreamy", to project the psychological state and "interiority"of the athletes. "The scripts are super-smart, so that intention was already in there," he points out. "But it was a question of 'what does it look like?'" With the support of his producers from Somesuch in the UK and Serial Pictures in the US, he conclusively answered those questions through his treatment for Super. Human. He won the job. "The deck was really strong – it had the whole temperament of the commercial," he reflects. "I think they saw that I'm a visual storyteller, I'm an image maker. And they took a leap of faith."
A leap of faith, perhaps, but no reckless gamble. Despite Young's lack of commercial directing credits, Channel 4 and 4Creative were also placing their trust in a hugely experienced filmmaker. He was (and remains) best-known as a cinematographer who had spent more than 15 years working to the peak of his profession, from low-budget independent films to big budget Hollywood movies – including A Most Violent Year, Selma, Arrival and Solo – A Star Wars Story. In 2017, he became the first ever African-American to be nominated in the cinematography category at the Academy Awards for his work on Arrival. He was also nominated for a BAFTA for his work on the film.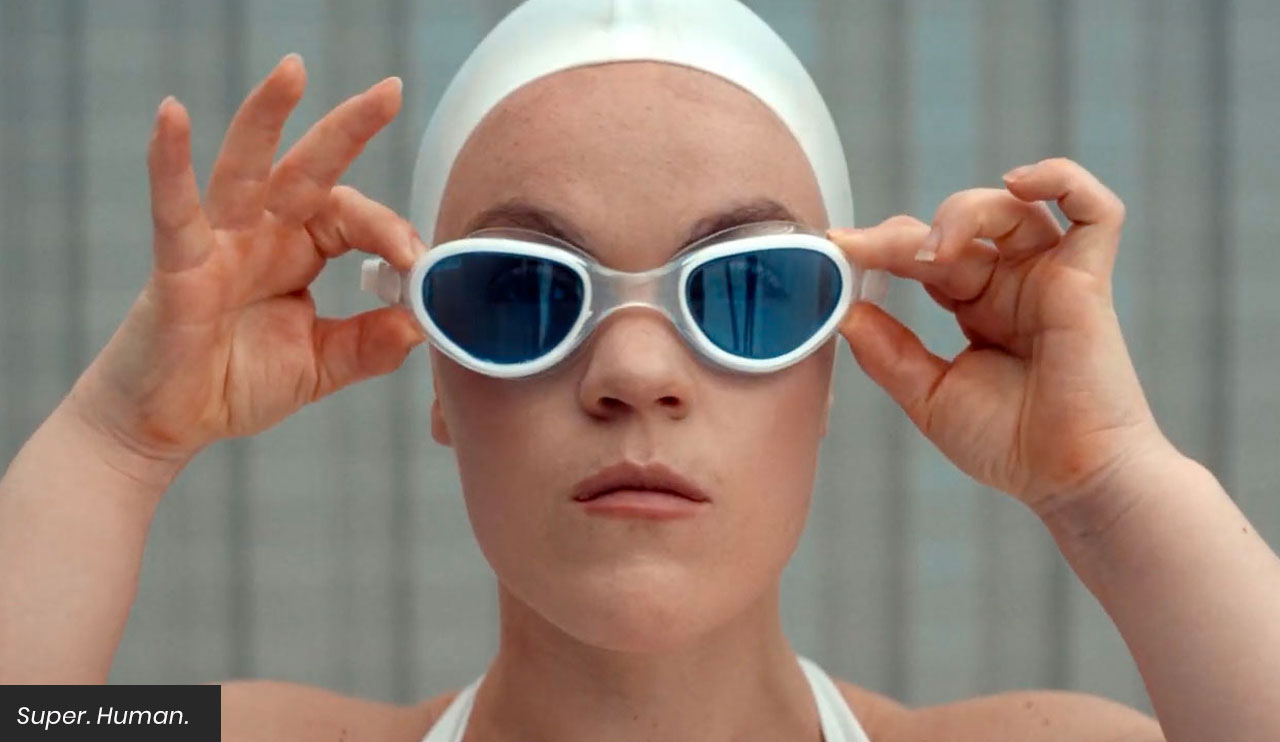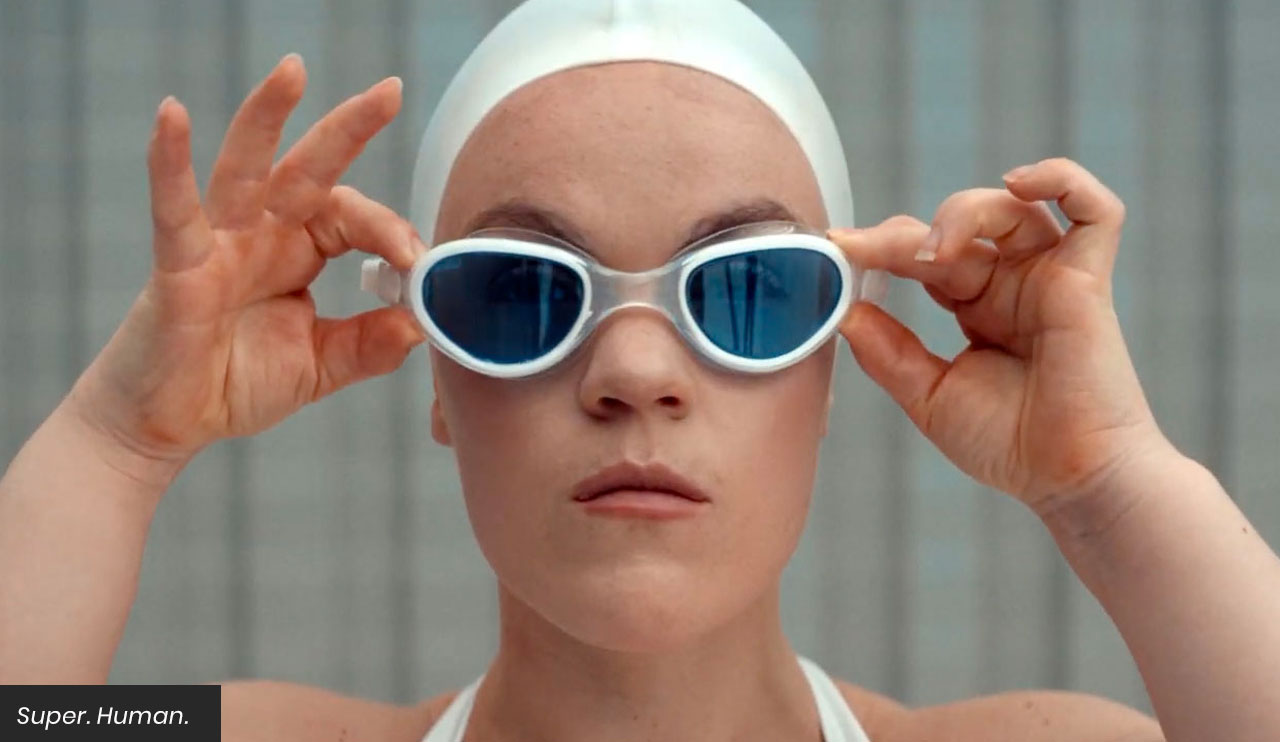 Young had also been DoP on various high-profile commercials over the past decade, working with the likes of Melina Matsoukas, Jenn Nkiru, Megaforce, Spike Jonze and Kathyrn Bigelow. Furthermore, he has a parallel career in the fine art space, as a film installation artist. Young was bringing to Channel 4's project his talent, experience, commitment and a willingness to challenge himself. "I wanted to say some things that I've been exploring in other work," he says. "I use multi-channel film projection to talk about things that affect my life. So, for me, it wasn't a big leap."
He would need all those qualities during the tight production schedule for making the film. Most importantly he had to engage with those selected from the GB Tokyo Paralympics squad – cyclist/athlete Kadeena Cox, cyclist Jody Cundy, weightlifter Ali Jawad, swimmer Ellie Simmonds and boccia player David Smith, to name a few – and gain their confidence enough for them to reveal their human side on camera. And he had a mere six days to film everything. "Trying to figure out how to look past these folks' disabilities, but also include it… that was difficult," he reflects. "But then [also] trying to get them to be vulnerable for me, in a very short space of time, so I could find a sincere, truthful moment – that was super hard."
He says that persuading the athletes to accept the whole premise of the film was a task in itself. "They're not actors, they're 100% themselves all the time. And you're telling them, 'Hey, I'm not just going to show you running fast, I'm going to show you running and then falling on your face.' Or 'I'm going to have you cycling around the cyclorama, but then you're going to fall off your bike. And your kids are going to not respect you because you don't spend time with them.' That's difficult to get folks to understand."
On this occasion he delegated cinematography duties to another DoP – "[the] most talented, incredible" Rina Yang – so he could engage fully with the athletes. He says their partnership was crucial to what happened on the shoot. "Rina really held it down for me. Many days I would just look up and it would be lit," he laughs. "But also the folks from Channel 4… I felt like everybody knew that this was like my first barbecue. I felt really safe."
The outcome is a remarkable film, the full version being three minutes long. It is a piledriving experience, combining coverage of intense athletic performance with intimate portrayals of the personal lives of leading British Paralympians, leavened with no little humour. It is powered by the brilliant use of imagery, from high-end VFX to old school stock animation to symbolise the both the inner lives and physical pain experienced by the athletes. One moment there is slapstick-style comedy, then it brings a lump to the throat. It's also supplemented by a new version of So You Want To Be A Boxer from Bugsy Malone on the soundtrack.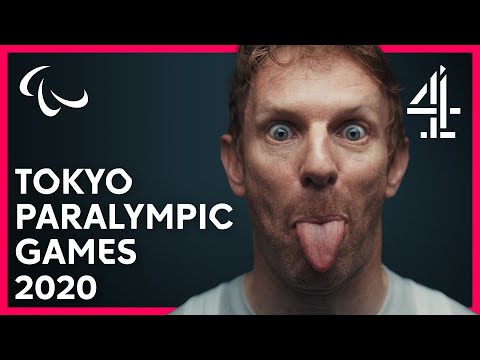 Super. Human retains the spirit and intention of its predecessors, and while it remains true to the brand philosophy, so to speak, it is also distinctively its own thing. It reveals more about the courage of this group of extraordinary people without allowing poignant moments to slow its breathless tempo. And, since its release last summer, the film has been a serial award-winner, most recently at Cannes Lions in June where it won four awards, including the Film Grand Prix, and the the Young Director Awards, which is supported by shots, where it picked up two Gold Screen awards in the Commercial and Online Branded Film categories.
Young is naturally pleased about the film's success, but when shots gets the chance to speak to him just before the wins at Cannes Lions, he's taking the philosophical approach to awards – which which seems appropriate as the film itself is partly about the downside of winning prizes, with swimmer Ellie Simmonds weighed down by her medals as she swims. "If winning those awards means something to one person on the crew, I'm happy," he comments, speaking on the phone during road trip with his family down the Eastern seaboard of the US.
The fact is, since Super.Human came out, his career as a commercials director has taken off, which is the truly tangible reward for his efforts. He has dedicated himself to directing commercials in the past year to, as he candidly comments, "make money." But throughout the conversation Young reveals a purist philosophy about his craft, making it clear that for him, the art of filmmaking comes first, and although he says it took him a long time to feel comfortable saying it, he regards himself as an artist, as would an image-maker in another field.
"My whole orientation to filmmaking is an artistic one," he says. "I consider it a practice, not an industry. It's something that people develop over time." He adds that having a vested interest in a particular work has little to do with the size of the project. "The moment where I felt the least on top of my game as a cinematographer was those moments where I had not made a piece of art, where I had not invested my time creating something very specific from my point of view."
Now 45, and originally from Louisville, Kentucky, Young emerged from a tradition of multi-disciplinary practice in the film school at Howard University in Washington DC – historically the most important Black university in the US. He explains that the film programme at Howard was such a nurturing environment for him that he considers it to be the most crucial period of his life, where he made lifelong friendships, and also met his wife, Stephanie Etienne.
They're not actors, they're 100% themselves all the time. And you're telling them, 'Hey, I'm not just going to show you running fast, I'm going to show you running and then falling on your face.' That's difficult to get folks to understand.
Howard is also the alma mater of other African-American filmmakers of prominence – Ernest Dickerson, Malik Saveed and Arthur Jafa. A few years older than Young, they also have combined cinematography with direction, moving confidently from success in one discipline to the other. "I consider them my big brothers," says Young, "[Like them] I didn't go to school specifically for directing, I just went for filmmaking, and I studied everything. Cinematography is the thing that captured my imagination."
Young left Louisville for Chicago as a teenager and, before enrolling at Howard, spent eight years in DC. He and his wife then moved to New York City in the mid-noughties, where his professional career began in earnest by way of low budget shorts and features in New York's indie movie scene. He recalls the excitement of that world at the time, when indie films were made and then sold to studios on small margins at best, a world that has since been transformed by the arrival of the streaming giants. "We were making films for $250,000, and they would go to Sundance. You would have your moment at Sundance, and that would turn into bigger moments," he recalls, neglecting to mention that he himself twice won the Cinematography Award at Sundance during this period.
His early struggles in New York were transformed when he began working with an up-and-coming director Dee Rees, who employed Young's preferred style in cinematography – using natural light, even in nighttime scenes – to great effect on her debut feature Pariah. "That really changed everything in terms of the kind of projects that I had access to as a cinematographer," he says.
Pariah was followed by other commended independent films, including Middle Of Nowhere, directed by Ava DuVernay, before he DoP'd two significant movies of the early 2010s – New York '80s crime drama A Most Violent Year, and the Oscar-nominated Selma, DuVernay's feature about the 1965 voting rights marches led by Martin Luther King Jr. He was on Hollywood's radar now, and the big movies Arrival and Solo were then followed by him working on DuVernay's blockbuster Netflix drama When They See Us.
I consider [filmmaking] a practice, not an industry. It's something that people develop over time.
Up until A Most Violent Year, it had really been all about the art. "We would make money by working on commercials, but it took me forever to get a break," he says. "I didn't shoot my first commercial until 2013. Derek Cianfrance was the first person to give me a commercial job, just after he had finished shooting A Place Beyond the Pines." It was the breakthrough that led to more work as a DoP on commercials over the past decade.
Notably, he talks of directors who came up later than him as those with whom he has the greatest affinity – the likes of AG Rojas and Melina Matsoukas – who now create respectful and peaceful environments on set that are in great contrast to the atmosphere and 'slash and burn' intensity that was the norm among the previous generation of directors. "We were making low budget films with our friends back then," he recalls. "We had to treat them with respect, because they were working for very little money and doing it for the love. And I think Super. Human felt like that too."
Now living with his wife and two sons in Baltimore – he only spends time in Hollywood when working there – he says his focus in the past year or so has really been divided between commercials and his own artistic practice, as opposed to movies. "I've always bobbed and weaved," he reflects. "I've always shot a film and then I'll take three months and get a commission by a museum and go make an installation."
He points out that very few, if any, of his direct contemporaries from the film programme at Howard University made the same steps that he did into the mainstream movie-business world. Does he see more opportunities for Black filmmakers in America, and in advertising production, now? Wrong question, he argues. The issue is not about employment but about ownership – and more. In that respect, he says, the situation for Black people in the US has certainly not improved. "Getting work is a whole different thing from creating community and a sense of consciousness around liberation – and that's the struggle," he says. "The struggle isn't getting jobs, the struggle is, are we free? And Black people in America are not free.
"Does money equal liberation? No, it doesn't. Liberation is through real platforms of freedom. Creating systems where we can be completely free from white supremisit rules and regulations – which is what we live under every day. And the film industry is a proxy for white supremisist structures and agenda. Anybody that thinks that it's not is delusional and need to be real with themselves."
Commercial production – or indeed movie and TV production in the US – is clearly very much part of that system, he says. "We're not changing the world, we're holding up systems," he comments about his commercial work. "There are moments, like with the Paralympics film, where there's a little kernel of kindness and understanding where I can see myself fitting in. Those opportunities are rare – but that's fine."
Working within this world is made palatable, he says, by the freedom he has outside this system. "Really it's about just getting sober on that and not letting that destroy you, but using it as a means to an end," he says. "Because now I can go and make a commercial, direct a commercial and make a lot of money. But what I do with that money is my business."
Interview by David Knight shots